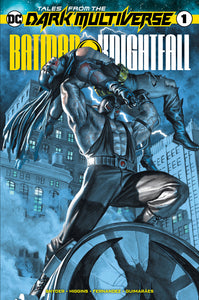 TALES FROM THE DARK MULTIVERSE: BATMAN KNIGHTFALL #1 BuyMeToys.Com Exclusive
DC COMICS
(W) Scott Snyder, Kyle Higgins (A) Javi Fernandez Cover Art by Rodolfo Migliari
(1st Appearance of Batman the Broken)


BuyMeToys.Com is thrilled to Announce our next Exclusive Cover by World Renowned Painter - Rodolfo Migliari!

Don't miss this twisted tale from the pages of the game-changing event "Batman: Knightfall"! Thirty years after Bruce Wayne was broken and failed to take back the mantle of the Bat, Jean-Paul Valley, now known as Saint Batman, has turned Gotham into the city of his dreams. In his new order, killing has become commonplace and criminals live in constant fear-all in the name of justice. But just when all seems lost, a new hope for Gotham City rises...the son of Bane!

Limited to Only 3,000 made, and only 1,000 single copies sold on our site.