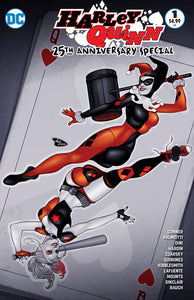 HARLEY QUINN 25TH ANNIVERSARY SPECIAL #1 BuyMeToys.Com Exclusive - Limited Edition
DC COMICS
(W/A) Amanda Conner & Various Cover Art by Ant Lucia

In a story written by Amanda Conner and Jimmy Palmiotti, with art by Conner, learn what really happened when Harley, Catwoman, and Poison Ivy hit Vegas! 
Then, a tale written by Paul Dini with art by Chad Hardin takes us back to Harley's days with the Joker to see the hell he unleashes when he makes the mistake of scheduling the biggest heist of their career on Harley's birthday! 
Plus, writer Chip Zdarsky and artist Joe Quinones pit Harley and the Joker against Batman and Robin -- but while you might think the Joker knows how to play with Batman's mind, it's nothing compared to Harley's ability to crack Robin's psyche!
And that's not all! Writer Dale Kibblesmith with art by David LaFuente put Coney Island right in the path of a hurricane -- and put Harley on a collision course with Swamp Thing, of all people...monsters...things...? 
This issue also includes Harley pin-up pages with art by Babs Tarr, Bengal, Dustin Nguyen and more!

Superstar Artist Ant Lucia Created the BuyMeToys.Com Exclusive Harley Quinn Limited Edition Cover!
Queen of Hearts - Limited to Only 1,500 Copies Worldwide!