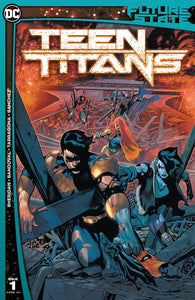 (1st Appearance in DC Continuity Red X)
When the original New Teen Titans formed a school to mentor and train young heroes, they wanted to help save the world. Years later, Titans Tower is a monument to a graveyard of pupils lost in a terrible battle. Returning to the site of their greatest failure, Nightwing, Starfire, Beast Boy, and Cyborg join Raven to plot a course to face off against the evil that destroyed their team and school. Loyalties are questioned and motives are suspect as the former teen heroes must turn to the mysterious Red X—a former student—for help. Don't miss the first comics appearance of this Red X, previously seen only in the hit animated TV series Teen Titans Go!
This Item may be cheaper at the BuyMeToys.Com Storefront.